Being involved in the creative community is very important to the team and we've found a great way to explore our own city is by visiting local art museums. You can find art from all over the world as well as from local Philadelphia artists. The museums are all following the current health guidelines and are also offering some fun virtual events. I'm excited to share with you a list of some of Philadelphia's best art museums and a few fun upcoming events.
Philadelphia Museum of Art
Explore beautiful art, design, and architecture at one of the most popular museums in the city the Philadelphia Museum of Art. The current exhibition, Jasper Johns: Mind/Mirror, has been named one of the best of 2021 by the New York Times. The exhibition displays the artist's contemporary artistic landscape style through his images that have made an impact in art for over 65 years now. This exhibition will be available to tour until February 13th. The museum offers kids art classes that you can register for and an hour-long tour of the highlights of the museum tour that happens often. Be sure to check out their website for more information on ways to learn by interacting with their art in person and through virtual options.
Barnes Foundation
You will find one of the world's greatest collections of impressionists, post-impressionists, and modern art at Barnes Foundation. You can view The Barnes Collection year-round, and the January and February spotlight is Tour: Renoir and Women which is a focus on the artist Renoir's work of the women in his life. On the first Friday of every month, you can enjoy an exciting mixer. On February 4th from 6 to 9 pm come to listen to the talented Philadelphia-based jazz and soul vocalist Lee Mo, enjoy art, cocktails, and light fare.
Rodin Museum
This is the only dedicated Rodin Museum outside of France displaying the world's great collections of work by sculptor Auguste Rodin. The museum is currently closed until February 4th when the new collection Rodin's Hands opens. Auguste Rodin explored the expressive power of hands and how they are used to express emotions and experiences. Outside of the museum, you can enjoy The Dorrance H. Hamilton Garden displaying eight beautiful works. The museum is open Friday through Monday from 10 am to 5 pm.
Woodmere Art Museum
Found in the charming Chestnut Hill neighborhood the Woodmere Art Museum is dedicated to the work of Philadelphia artists. The museum is open Wednesday through Sunday with admission being free only on Sundays. Two current exhibits are Face Space and Impressionism: A View from Philadelphia both available until March. A few upcoming events are Tuesday night film showing "In the Heat of the Night" on February 22nd, and art classes you can sign up for such as introduction to drawing, portrait painting and drawing, and family art and storytelling.
Penn Museum
Penn Museum showcases works from all over the world including ancient Egypt, Greece, Italy, Mesopotamia, Asia, Africa, and the Americas. The anthropology and archaeology museum is a part of The University of Pennslyvania. To provide a safe visit you can visit their website to book a timed visit and get your tickets ahead of time. On weekends at 1 pm you can go to the galleries for The Daily Dig, a 15-minute exploration of an extraordinary artifact. A few at-home events coming up that regularly occur are Virtual Global Guide tours and at-home anthro live that continuously change topics.
Abington Art Center
The Abington Art Center is located in Abington Township and is a community center focused on music, drawing, painting, oil, ceramics, metals, sewing, embroidery, pottery, and jewelry classes. The current exhibition is Annual Juried Show 2022 with Juror Riley Strong, a multi-media artist from Vero Beach, FL. The exhibition is available through February 14th at the center. The center normally has concert series, outdoor screenings, craft fairs, and coffee talks with artists. Due to Covid, the in-person events have been canceled, but sign-ups for Summer art camps and classes are now open to sign up for.
Van Gogh: The Immersive Experience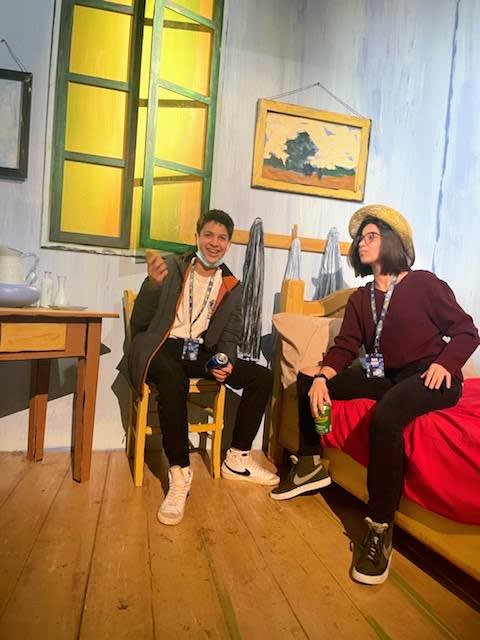 The Van Gogh: The Immersive Experience is a 20,000 sqft light and sound exhibit featuring two-story projections of the artist's most compelling works. Located at The Tower Theatre, S 69th St &, Ludlow St, Upper Darby, 19082 this exhibit is Covid-safe and family-friendly. You will be able to try a virtual reality interactive journey walking alongside Van Gogh discovering the inspiration behind his works. The visit can take around 60 to 75 minutes to go through the entire experience. You can go purchase tickets in advance on their website.
The Galleries at Moore College of Art & Design
The Galleries reopened on January 21st for the opening of Tristin Lowe: Black Holes & Rabbit Holes. Lowe's work "is rooted in multi-disciplinary projects that explore the absurd and transform everyday, mundane materials into awe-inspiring creations" and for the first time, an artist will have nearly 7,000 square feet of space dedicated to a single artist. You can also see the Black Lives Matter: Ceramic Mural by artist John Costanza and the students and teachers at Philadelphia's University City High School. Throughout the month of February, you can view screenings of Blade Runner, Fantastic Planet, Being John Malkovich, and more.